The top 10 challenges of running Microsoft Teams and how you can overcome them
Here, we outline the top 10 challenges that come with using Microsoft Teams, which can create confusion, consume time, add to IT costs, and reduce user engagement.
However, there are solutions available to address these challenges, so there's no need to worry.
Time-consuming document search
Users complain that they either can't find any documents at all or find too many documents in Microsoft Teams and waste a lot of time trying to find the information they need.
This results in significant time and cost.
A time-consuming search for information or documents can have a negative impact on productivity and, ultimately, on costs in the company.
For example, let's consider a company with 1,000 employees, where each employee wastes at least one minute per day searching.
At an hourly rate of 60 euros, this equates to a potential loss of 1,000 euros in productivity per day (1 minute per employee x 1,000 employees = 1,000 minutes = 16.67 hours x 60 euros/hour = 1,000 euros).
While this may not seem like much at first glance, when extrapolated to a month, the loss amounts to 20,000 euros.
Extrapolating to a year, the amount increases to 240,000 euros.
This highlights the significant cost implications of inefficient processes and unstructured information management for companies.
Loss of control due to uncontrolled growth
Loss of control due to uncontrolled growth is a common phenomenon in Teams-sprawl.
Without clear rules and structures, information can proliferate quickly and become difficult to manage.
Over time, more and more data accumulates, making it increasingly difficult to maintain an overview.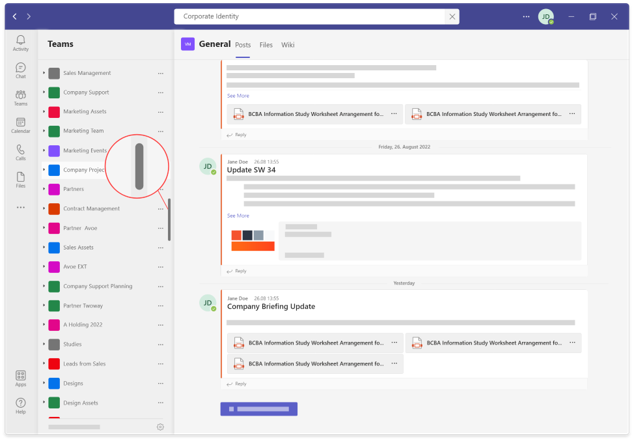 End users become frustrated when they have difficulty finding the information they need.
Searching for relevant information becomes a huge waste of time, which has a negative impact on productivity.
The lack of a clear structure can also lead to conflicts and dissatisfaction as users feel unable to do their jobs effectively.
Access control: Control over corporate data can be lost
Control over who has access to which documents and when can be lost.
It's easy to share files both inside and outside of Microsoft Teams, but there is often a lack of clear visibility into who has access to which files and when.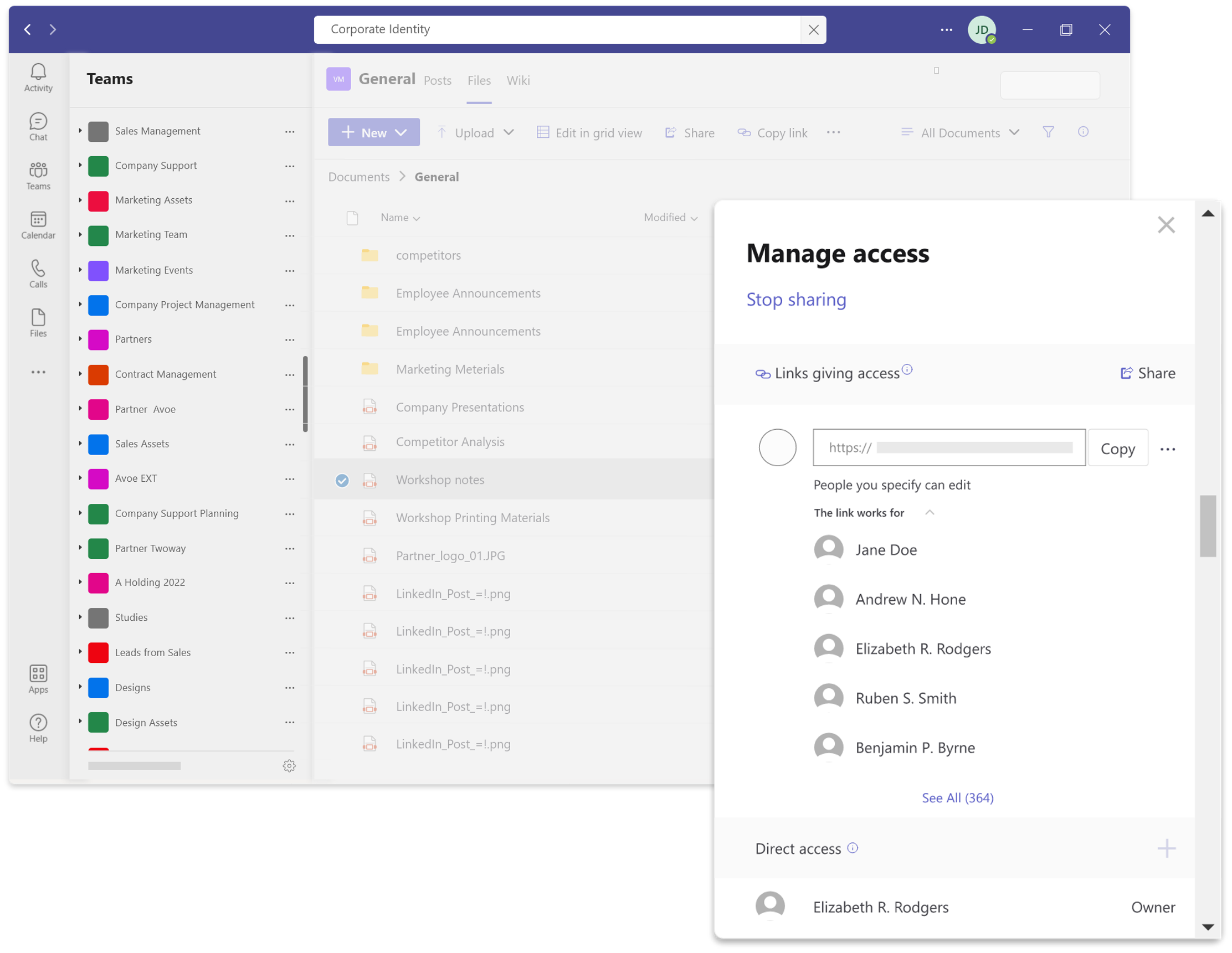 Uncontrolled access to documents can have serious consequences, such as data leaks, privacy policy violations, or even legal ramifications.
External access: risks associated with lack of control
Microsoft has made it very easy for us to collaborate with partners on documents.
External users can be quickly invited and can collaborate directly without any major hurdles.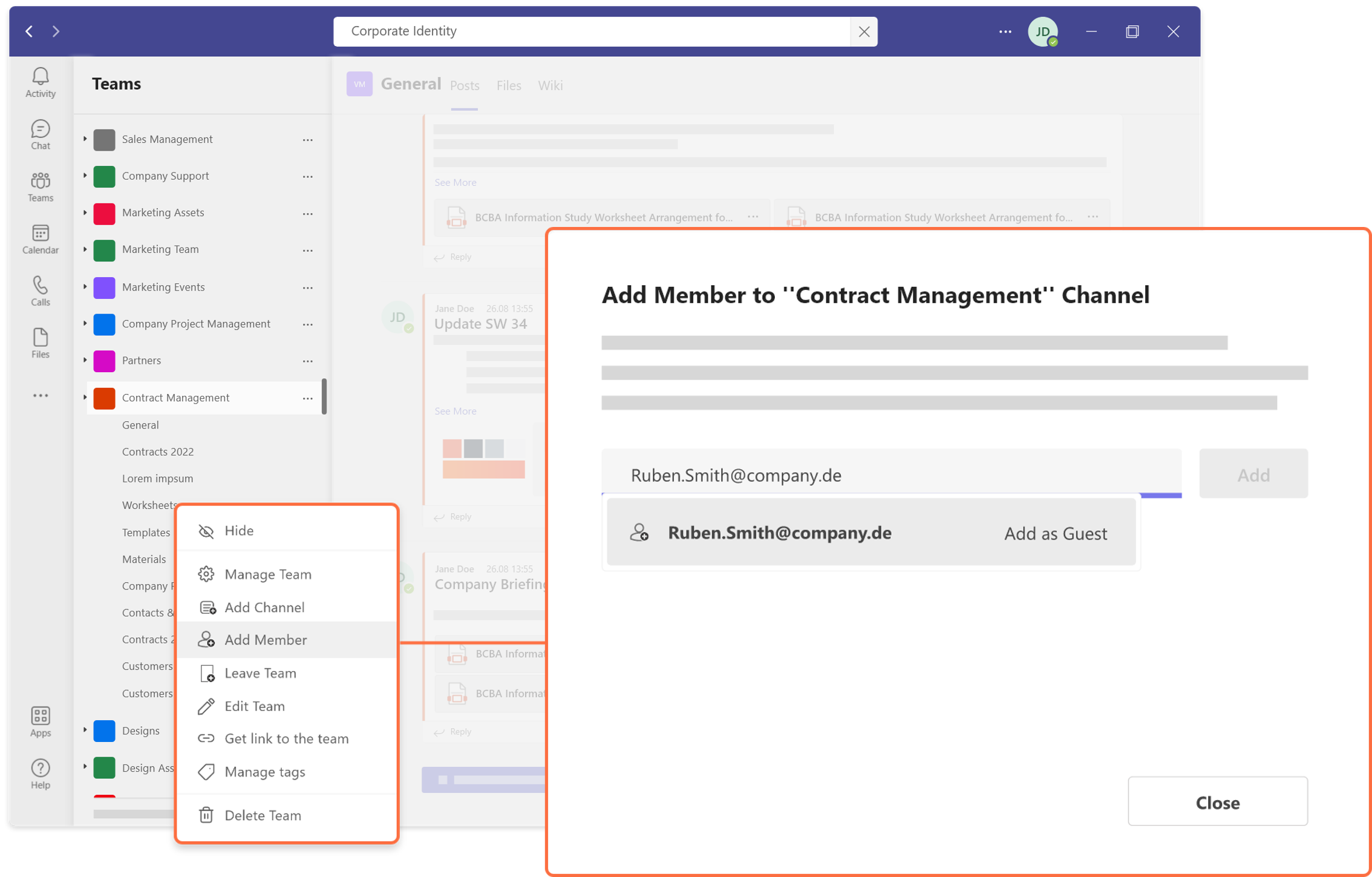 However, when the project is completed, removing the external user becomes a real challenge, as it takes time and resources to remove the user from the team.
This can lead to external users having access to more data for longer than they should, posing a risk to data security and privacy.
Filing structure: When chaos threatens
When there is no clear filing structure, it can become a challenge for users.
They often send repeated messages to get information such as "Where can I file this important document?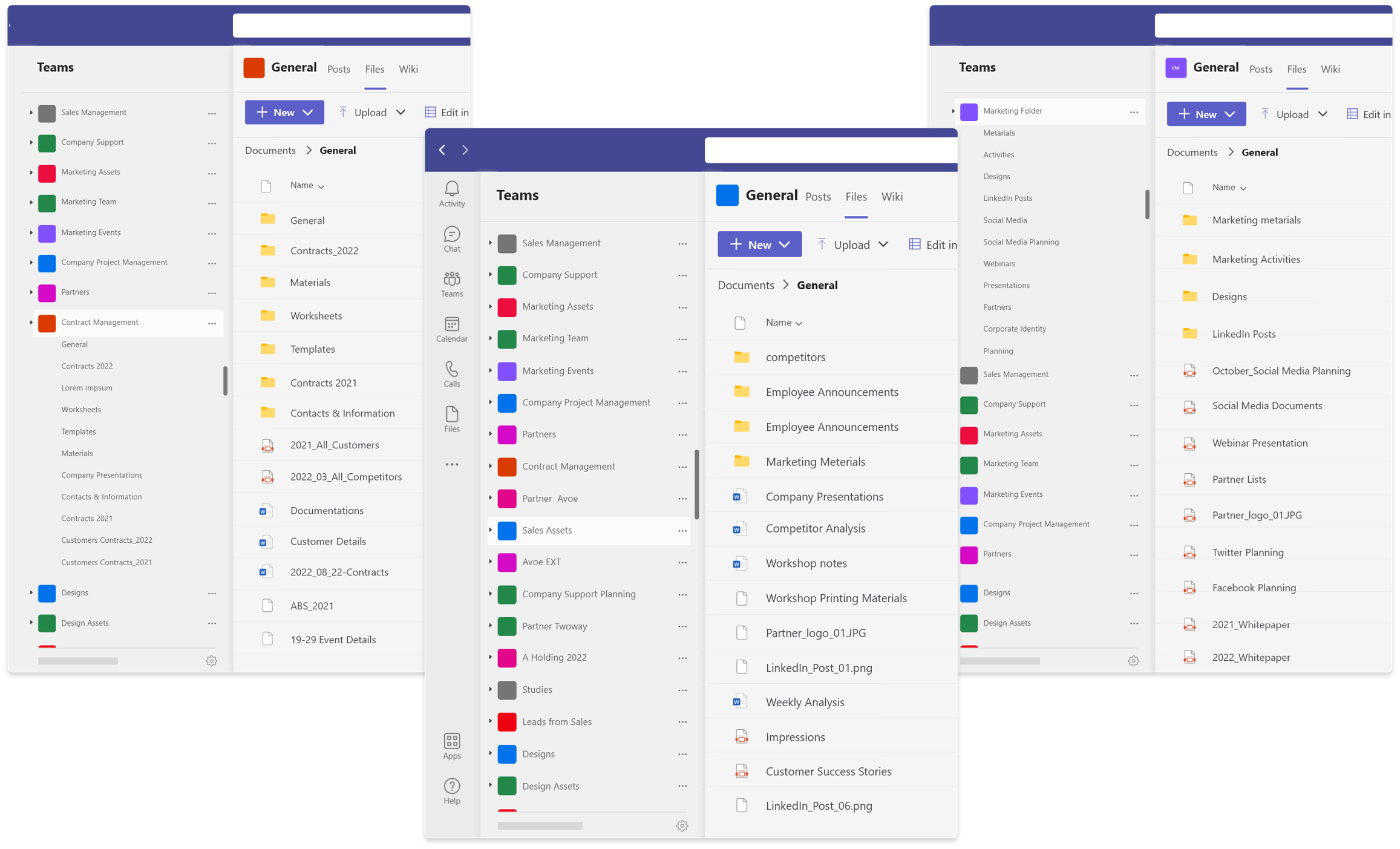 These interruptions can distract employees and result in a significant loss of time.
Additionally, employees may create their own filing structure, but only they understand it, which can lead to other users being unable to navigate it effectively.
Declining User Acceptance
Initially, when there are only a few teams and users on the platform, everyone is usually happy.
However, as the platform grows and the number of teams increases, challenges begin to arise.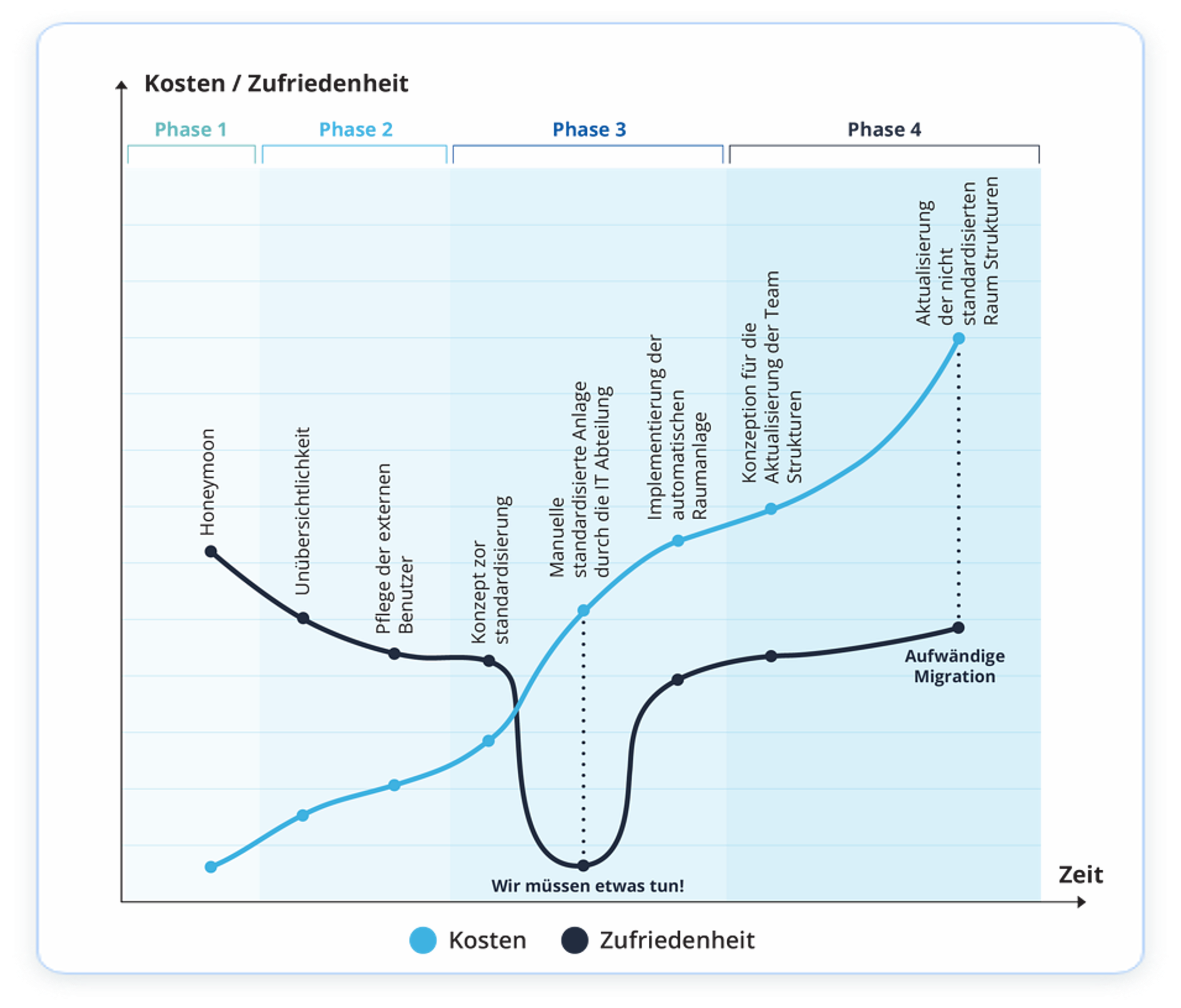 The IT department is faced with managing a growing number of teams, which leads to rising costs.
At the same time, user acceptance decreases as they have difficulty finding their way around the platform.
If employees are unable to navigate the platform and do not use it, the investment in the platform may appear futile as it fails to deliver the expected benefits.
Centralized Management: Costly Trade-offs between Control and User-Friendliness
To avoid sprawl, IT departments often disable the creation of new teams.
However, this leads to long waiting times for users and a high administrative burden for the IT department.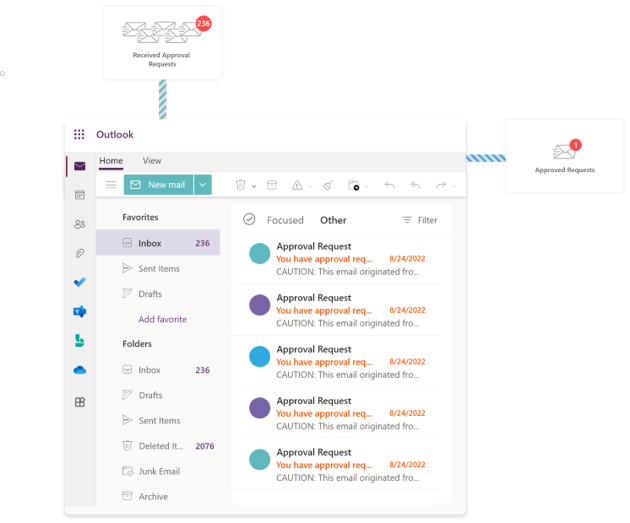 The IT department often lacks sufficient resources to respond quickly to requests.
This can lead to long waiting times, causing frustration and dissatisfaction among users.
As a consequence, users often turn away from the platform.
Extreme Administrative Effort
Due to a shortage of skilled workers, the IT department can become a bottleneck, leading to delays in responding to requests.
These delays can cause frustration and dissatisfaction among employees.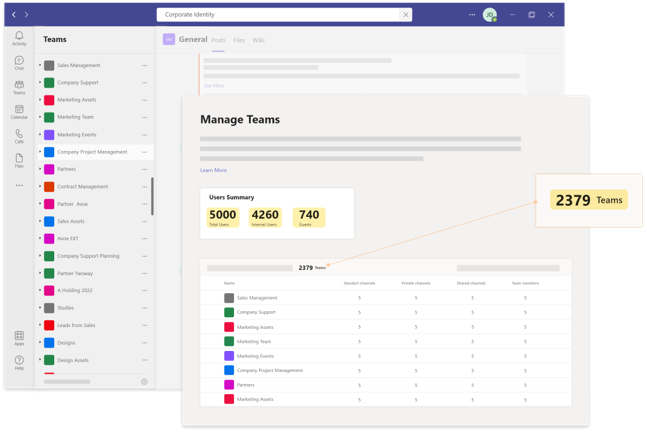 Users begin to use teams heavily by storing files and collaborating with external partners.
The administrative workload gradually increases, and it is often not noticed until it becomes overwhelming that there is no automation in place.
As a result, employees have to step in and put in extra effort to get the tasks done.
Data Protection: Lack of Control Over Sensitive Data
Without an appropriate authorization concept, any user within Teams can access and share all data, which poses a risk to confidentiality and data protection.
Unauthorized access to sensitive data by untrusted parties can compromise the security of the organization's data.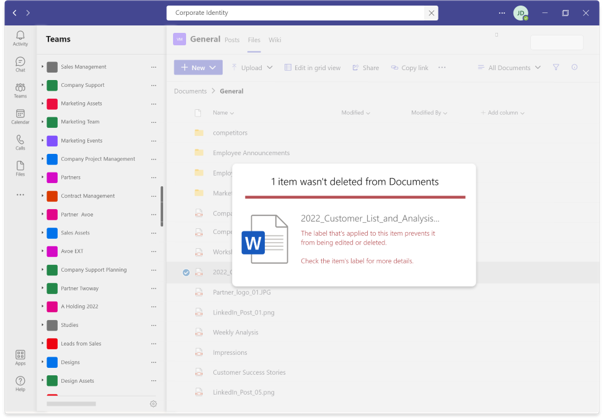 The data protection officer requires documentation of processes and compliance with elaborate data protection guidelines when using Microsoft Teams.
Tenant storage: Huge cost increase
Organizations invest significant time and resources into defining clear data protection rules.
However, the challenge lies in ensuring compliance with these rules, especially when automated processes are not used.
One such example is the cost of tenant storage, which can become a significant expense as more data is accumulated and stored on the platform.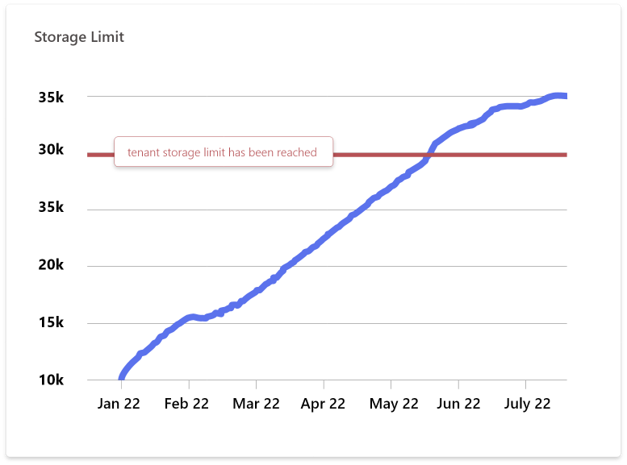 This can lead to the uncontrolled creation of too many documents, the creation of too many team rooms and the rapid exhaustion of storage capacities.
As a consequence, high storage costs are incurred.
Summary of Challenges in Using Microsoft Teams in Four Categories
In summary, the challenges of using Microsoft Teams can be divided into four categories:
1. Skills shortage, leading to the IT department becoming a bottleneck for processes.
2. Proliferation, causing employees to waste a lot of time searching for documents due to cluttered data and an unclear filing structure.
3. Security and privacy policies that lack control over who has access to what information and when.
4. Unclear processes, particularly when it comes to requesting, archiving, and deleting Teams groups, as well as managing external users.
Approaches to solving the challenges of Microsoft Teams administration
In the next section, we'll share tips and best practices for overcoming these challenges to help you work more effectively and efficiently on the platform.
Skills shortage: Automation and templating mechanisms
The IT department is often the bottleneck for platform usage processes.
One solution to the skills shortage is to use templating mechanisms that provide pre-built templates for users.
These mechanisms can offer automated filing structures and lifecycle management for teams, enabling teams to be archived or deleted, and user management to be automated.
This allows the system to automatically detect which users are part of the team and which can be removed.
Wild Growth: Predefined Information Architecture
To avoid uncontrolled growth, it is helpful to have a predefined information architecture.
This includes metadata for the team and the documents that will be stored in the team.
It is important to automatically assign keywords to the documents based on the metadata to facilitate searching later.
Having a dashboard or overview to quickly view the filing structures and documents can also be helpful.
Search portals for teams' documents can help find information quickly and efficiently.
Security and Privacy Policies
To avoid security and privacy risks, automation can help.
A predefined authorization concept can be used to automatically assign the right permissions to users.
It is also important to automate external and internal user management to ensure that only those who need access have it.
Regular checks should be performed to see if an external user still needs access and to ensure that access is automatically removed when it is no longer needed.
Another important measure is integrating with Microsoft's Purview Center.
Here, retention labels and sensitivity labels can be applied to the team to ensure data confidentiality and security.
Unclear processes
Unclear processes can lead to errors and delays, and are a significant problem for companies. Successful lifecycle management can help solve such problems.
An important first step is to define clear processes for various tasks, such as the application process, archiving, and deletion process.
This allows everyone involved to ensure they are performing the right steps and following the correct guidelines.
It is also crucial to define clear responsibilities for different tasks. Who is responsible for setting up teams?
Who is responsible for inviting external users? Who is responsible for off-boarding external users?
If everyone knows who is responsible for which tasks, the team can work together more efficiently, and problems can be resolved faster.
Another essential aspect is the invitation and off-boarding of external users.
Clear processes should be defined to ensure the security and confidentiality of data.
Access control: automation and authorization concepts
Automation and the use of predefined authorization concepts can help improve access control and minimize security risks.
Integration with Microsoft's Purview Center enables the application of retention labels and sensitivity labels to teams.
External Access: Regular Review and Removal of External Users
Regular review and removal of external users can help minimize security risks.
External users should only have access to documents for as long as necessary, and their access rights should be automatically removed after a certain period of time.
Filing structure: Consistent use
If we consider the "filing structure" point, a clear definition and implementation of filing structures can certainly help.
One possibility, for example, is to use predefined templates that create a consistent filing structure, making it easier to search for documents.
Declining user acceptance: Simple and intuitive user interface
A user-friendly platform can help improve user adoption and make working on the platform more efficient.
IT can decide, for example, whether private teams are visible in the user interface and whether users can submit a request to join.
This way, multiple team creation can be prevented from the outset.
Centralized management: balancing centralized management and user-friendliness
Centralized administration can be simplified by using self-service tools and automation processes.
The introduction of roles and permissions, as well as the implementation of workflows and processes, can also help make administration more efficient and user-friendly.
Privacy and Processes: The Foundation for Secure Work with Microsoft Teams
When it comes to data protection, it is essential to define clear policies and processes and ensure that all users adhere to them.
One way to do this is to use retention labels and sensitivity labels to protect sensitive data.
Efficient Storage Management
Finally, optimizing storage management can help reduce storage costs on the platform.
It is crucial to regularly delete documents that are no longer needed and optimize storage management to avoid unnecessary costs.
Use these tips and best practices to improve your work on the platform and get the most out of Microsoft Teams.
Challenges in Running Microsoft Teams: Next Steps
What should you do now that you know what needs to be done?
You probably see a lot of work ahead and are wondering whether you should tackle the challenges on your own.
You might be curious about the costs of optimizing your team operations with an in-house solution.
Before diving into in-house development, ask yourself if your company can handle the challenges described.
Determine if your IT department has sufficient capacity for long development times.
Keep in mind that with an in-house solution, you'll also need to handle bug-fixing and further development of the solution internally.
This can result in an unwanted dependence on the IT department.
Do you know if your IT team has the necessary skills for in-house development?
In addition, consider the ongoing operating costs of your in-house solution in advance.
You don't have to reinvent the wheel, as mature third-party solutions can be an efficient and cost-effective alternative.
If you want to learn more about optimizing your team operations and the challenges involved, read our "Make or Buy" article, which explores the issue in detail and provides answers to your questions.
Conclusion
In summary, collaboration and communication on the Teams platform come with some major management challenges.
These can lead to inefficient operations, rising costs, and declining user adoption.
However, there are approaches to overcoming these challenges, primarily through automation.
One example of such automation is Valprovia's Teams Center, which automates the entire lifecycle management of Microsoft Teams and SharePoint, increasing employee productivity and enabling cost optimization.
It enables structured document and Teams storage, automatic document tagging, and ensures compliance with data protection regulations by automating security, compliance, and governance policies.
The Team Center offers numerous application scenarios such as intranet, project collaboration and relieves the IT department of the administration and operation of the platform.
By implementing the described solution approaches and using automation tools such as Valprovia Teams Center, IT administrators and decision makers can successfully overcome the challenges of operating Microsoft Teams and get the most out of the platform.