What exactly does sprawl in Microsoft Teams mean

?
Sprawl is a collective term and refers to the following three aspects in Microsoft Teams:
Anyone can create Teams teams

Duplication of Teams teams

Unused Teams teams

Obsolete Teams teams

Deserted Teams teams

Test Teams teams

Too many channels

Anyone can create channels

Goal of the channels is unclear and not communicated

Too many apps

Apps not approved by the company




Cluttered document repository

Duplication of files

Outdated files

Inconsistent directory structures

Untagged files




Management of user access

especially from external users

Rights and permissions according to security criteria
Identify what causes uncontrolled growth
Check these points to see if they apply to your current situation:
Creative wildness out of curiosity
Often the introduction of a collaboration platform arouses the curiosity and playfulness of employees.
Acceptance of the platform is high. Private and public spaces, channels, chats and Sharepoint SiteCollections are quickly created in an uncoordinated manner.
Sprawl due to lack of guidelines
Without a corporate strategy that regulates the use and handling of Microsoft Teams, uncontrolled growth is inevitable.
Lack of knowledge about the usage of Micorosoft Teams in the company
Ensure that all employees have access to the knowledge they need.




Is clearly communicated

how the collaboration platform is to be used

which rules apply

which processes and workflows are to be followed

which templates exist

which contact persons provide support
Well hiding is duplicating
Teams Rooms that are created as private rooms cannot be found by other employees. This can lead to identical or very similar rooms being created several times and synergies not being used.
It ain't over till it's over - Lifecycle Management
Projects come to an end once, but this is just the beginning of another phase for the IT department. Archiving project rooms, withdrawing access that is no longer needed and keeping documents safe in accordance with any retention periods.
How does IT know that a project has been completed? How do you ensure that all rooms that are no longer needed are removed from the operational business and, conversely, that all rooms that are currently needed are also fully available?
What problems does sprawl cause?
For the users, sprawl means losing the overview. For the IT department, it creates an immense amount of work.
User acceptance
All employees who use the collaboration workplace should find it helpful. If users do not find their way around, if they feel unsure which channel is the right one, or if they are simply unable to find the right room because it is private and therefore cannot be found, the result is that acceptance of the platform drops rapidly.
The platform is no longer seen as a central communication and project hub, but as an annoying crutch.
Reduced productivity
Reduced acceptance also results in reduced productivity, which can extend to all employees.
Furthermore, unstructured collaboration platforms significantly limit the productivity of the IT department.
From installation to maintenance and archiving, the IT department has to deal with an increasing number of administrative tasks.
The IT department is often the bottleneck and causes unproductive waiting times for employees.
Security risks
Are you absolutely sure that only authorised access to your platform takes place, both internally and externally? Then you have a major problem with the proliferation under control: Congratulations.
In our experience, however, the reality often shows that, for example, access rights are clearly defined and allocated at the beginning of a project and with the creation of the associated project room.
However, over the course of the project and especially after its completion, access by external users is quickly lost sight of.
IT cannot judge which external users should still have access, but a project manager has long since lost sight of this. This opens the door for unauthorised access.
In a study, more than a third of the respondents described cooperation with external users as difficult, and in companies with more than 5,000 employees this figure was as high as 39%.
Immense administrational effort
Once collaboration platforms have grown organically, there is undoubtedly a certain degree of uncontrolled growth. Containing this uncontrolled growth and keeping it within a framework that guarantees security and productivity poses major problems for the IT department.
On average, the effort for authorisation, creation, restructuring and archiving is 8 hours per team room.
In addition, the effort increases linearly with the number of external users. Starting with 250 team rooms, this corresponds to a full-time position in the IT department that has to be deployed to combat the uncontrolled growth.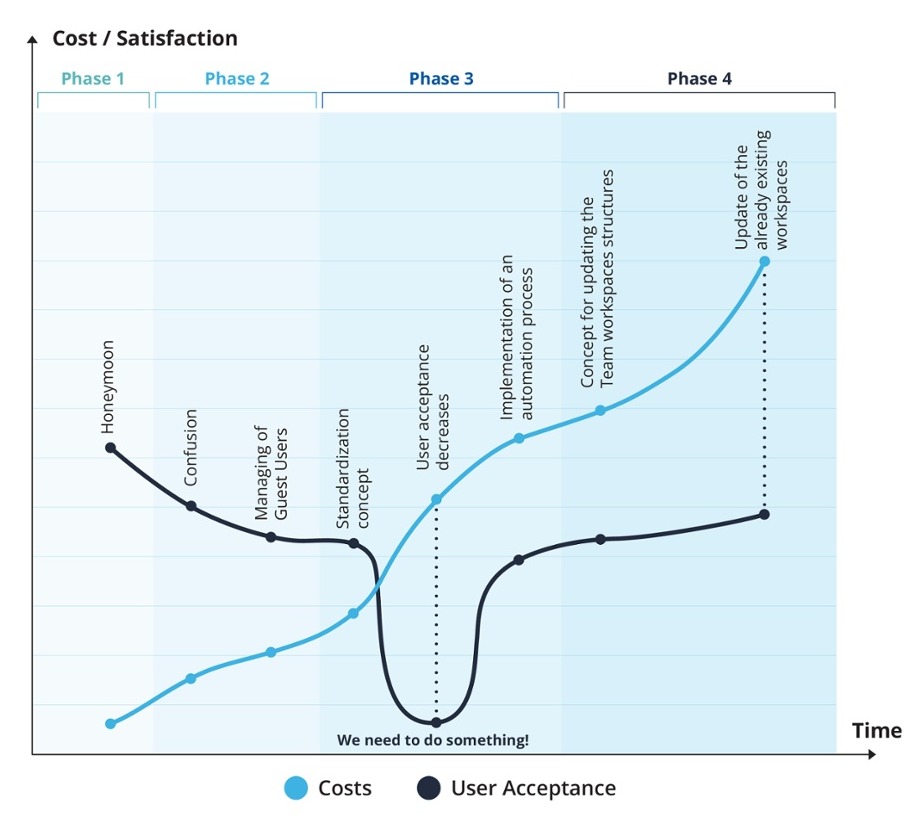 Evolution of satisfaction and costs over time
What does sprawl in Microsoft Teams

actually cost

?
Nerves, security and money - that would be the short answer. From a business perspective, at least the IT resources can be quantified very precisely and the costs incurred by the sprawl of the collaboration platform can be determined.
To do this, estimate the number of teams in your rooms and use our empirical values for the individual costs in the table as a guide. Take into account that the effort for the IT department in the creation and approval is rather low when there is maximum freedom, whereas the effort in restructuring and archiving very quickly reaches the specified maximum value when there is uncontrolled growth, and in some cases even exceeds it:
| | | |
| --- | --- | --- |
| | Min hours/ Teams room | Max hours / Teams room |
| Approval process | 0,25 | 1 |
| Creation | 0,25 | 2 |
| Restructuring | 1 | 3 |
| Archiving | 0,5 | 3 |
| External UserManagement | Na | Na |
| TOTAL | 2 | 9 |
Special factor Management of external users:
While adding external team room users is simple, their further management brings considerable costs with it. An external user with whom collaboration has already ended must be found in the respective team room and removed in order to counteract uncontrolled growth. The effort rises linearly with the number of external users and can thus account for a massive proportion of the operating costs.
Detailed cost and savings opportunities in the operation of the collaboration platform through automated governance can be found here.
Permanently defeat sprawl - how to
1. Analysis
If you have not yet introduced a collaboration platform in your company, you have a good chance of counteracting uncontrolled growth right from the start by carrying out careful analyses of the various uses and use cases of the platform.
These will be able to provide you with clear guidelines on how much freedom you can give your users and which unavoidable guidelines you need to create.
At this point, also clarify which resources and contact persons with the required knowledge of the native Microsoft tools you can fall back on.
2. Convert the guidelines into processes and templates
Once you have defined the rules in your company that are to apply to the creation of new team rooms and document structures, it is time to make them available in corresponding templates.
In this way, you unify and standardise your collaboration platform. This applies not only to the creation but also to processes in maintenance and at the end of the lifecycle.
3. Automation
Every automated process ensures compliance with pre-defined standards, prevents human carelessness and relieves IT staff of up to 3 hours per team room.
The following processes can be automated to prevent uncontrolled growth:
Creation of teams rooms

Creation of channels in Teams rooms

Adaptation of the Team Sharepoint Site Collection based on templates

Provision and integration of apps

Individually adjustable metadata

Role-dependent access rights

Flexibly customisable approval processes

Management of external users

Provision of sensitivity and retention labels

Automated keywording

Complementary AI-based keywording
Conclusio
Sprawl extends across spaces, channels and apps in the Microsoft Teams collaboration platform.
A lack of strategy, guidelines and processes encourages uncontrolled growth and hinders productivity.
Automating governance rules according to company-specific standards prevents uncontrolled growth in the collaboration platform in the long term, ensures productivity and thus helps to significantly minimise business risks.
Which tool is suitable for your automated governance depends largely on the requirements defined by the company's own use cases and, if applicable, which specifications exist in your industry.