The tasks of a Microsoft Teams governance solution
A Microsoft Teams governance solution is responsible for the following:

Defining who can create a Teams workspace
Enabling the request of new Teams spaces
Mapping the approval processes for workspace creation
Automated provisioning of workspaces: provisioning (Teams teams and SharePoint site collections)
Management of Teams teams: management of members and external users
Support of information protection through automation
Archiving of teams groups
Deletion of teams
Notification of IT managers in case of broken company policies such as orphaned teams (teams without owners)
Increasing the findability of documents through a standardised information architecture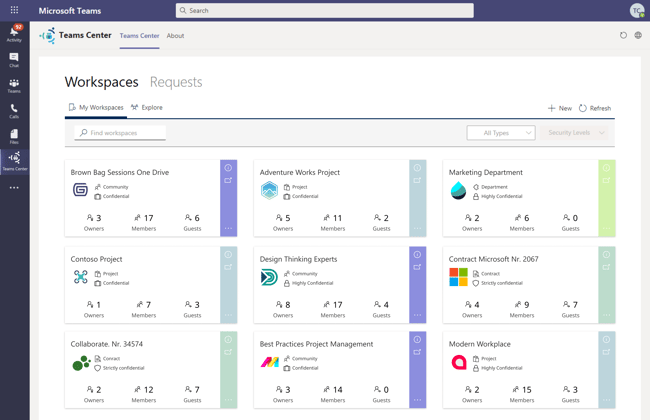 Example of a governance solution: here Teams Center

What to look for when buying a Microsoft Teams governance solution
Before you decide on a governance solution, you can evaluate the following aspects:
4 Microsoft Teams Governance Solution Providers Headquartered in Germany
We have found the following Microsoft Teams Governance product vendors whose solutions are "Made in Germany" for you to consider:
Valprovia – Teams Center
About Valprovia:
Valprovia is an innovative software manufacturer based in Oedheim, near Heilbronn, that is always oriented towards customer needs. As a long-standing Microsoft partner, Valprovia focuses primarily on productivity and governance solutions for Microsoft 365.

In-depth industry knowledge, especially in the DACH region, and years of experience with Microsoft enable us to develop customised solutions and products that are perfectly tailored to the needs and behaviour of their users.

Special attention is paid to the increased data protection requirements due to the DSGVo, which the solutions take into account.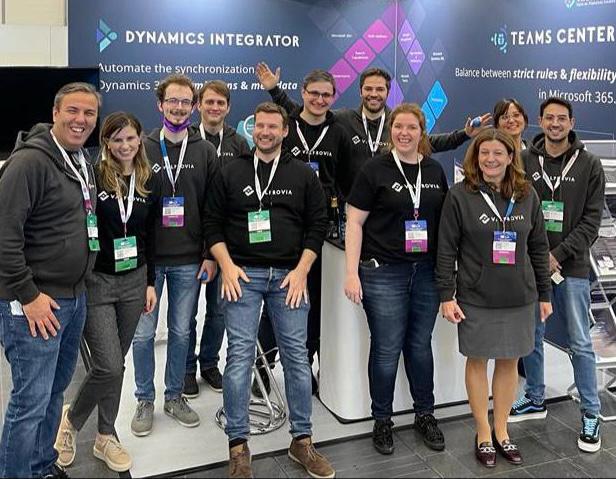 Valprovia delegation at the European Collaboration Summit
Valprovia is leading the way and looking to the future in simplifying the implementation and management of Microsoft 365.

Valprovia's founding team can draw on their years of experience as solution architects and consultants at Avanade. One of the first SharePoint Masters to complete the MCSM programme based on SharePoint back in 2013 is CEO Arthur Neufeld, who was also the first SharePoint Solution Master in Germany.
Teams Center:
Teams Center is designed to help organisations achieve the right balance between user freedom and IT control. The solution simplifies the operation of the Microsoft 365 collaboration platform and provides an easy and fast way for all users to provision template-based Teams and SharePoint sites in an automated way.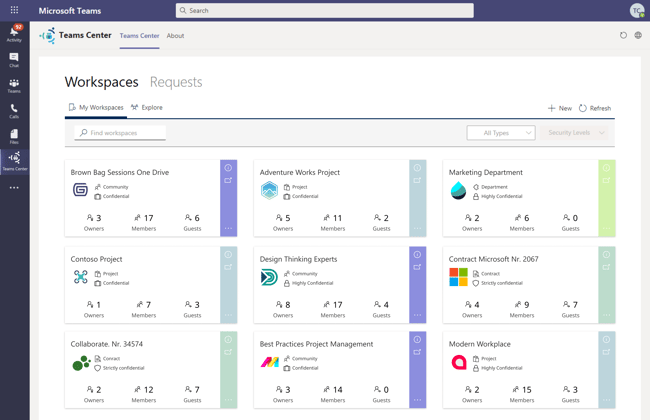 Teams Center Screenshot Teams Center Overview
The intelligent navigation and user management provide an uncomplicated overview of all existing teams and their owners & members. With the help of colour coding and an overview of the templates and security levels used, collaboration rooms can be easily categorised. Not only existing teams but also private teams can be searched and filtered in the Explore function.

The standardised templates can be used for teams, SharePoint & document sets. Furthermore, self-defined security levels can be created for internal security and compliance guidelines.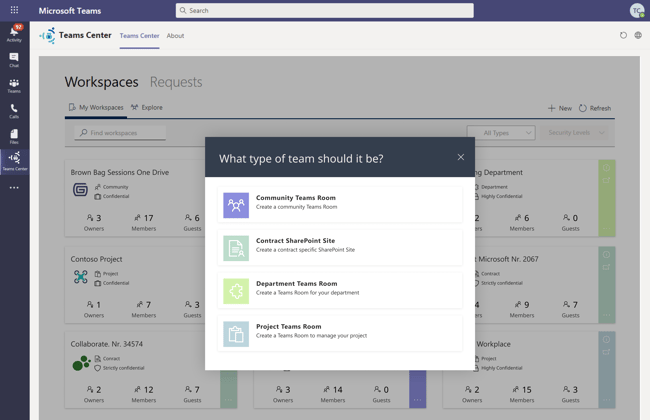 Screenshot Teams Center Workspace Type Selection
With Teams Center, you can decide how your request forms should look and which individual information and metadata should be requested. This makes the tool easy to use and gives inexperienced users the ability to configure teams and have them created automatically using appropriate approval procedures.

This gives your users sufficient freedom when creating workspaces in Teams and SharePoint. With the additional suggestion function for similar teams, you avoid uncontrolled growth and duplicate teams in your Microsoft 365 environment.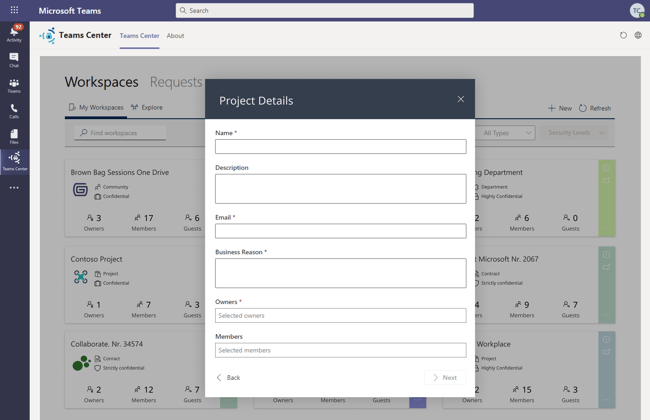 Screenshot Teams Center Workspace Details
Configure permissions for new and existing guests via security levels. Depending on the templates, you can decide whether external users should be allowed or prohibited. In addition, Teams Center offers easier user management, especially in the Teams Owner area. Here, extra care is taken to ensure that team owners are not site collection administrators.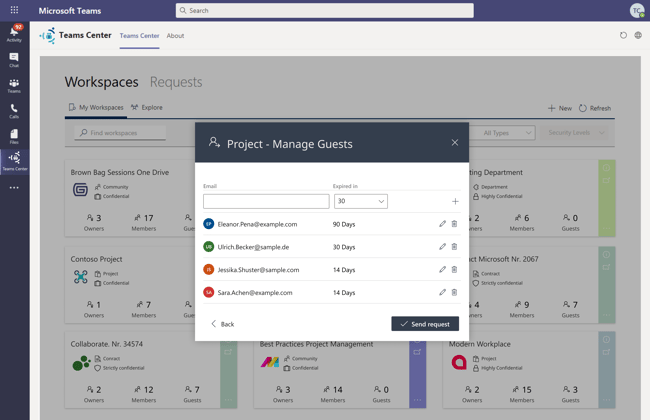 Screenshot Teams Center External Users
Best Features:
Security & Compliance: Provision of sensitivity labels and retention labels. Management of external shares and external users. No user is site collection administrator.

Data protectio:Teams Center is provided as a self-hosted solution on the customer's tenant, no information flows to the software vendor.
External User Management:Individual expiry date per guest for automatic removal from Teams. Possibility to allow existing or new external users.
Governance: Flexible customisable approval processes and customisable template permissions for users to see only the templates to which they have access.
Provisioning: Provision SharePoint Site Collection and Teams for better information architecture. Elegant template creation without having to clone Teams.

Lifecycle Management: Identify unused Teams and SharePoint Sites. Automatic removal of external users using expiry dates.

Automated tagging of documents & search functions: AI-based tagging of documents with metadata entered during the application process and SharePoint Syntex support.

UI & Architecture:Initiation of business processes based on metadata. Individually configurable metadata can be entered before teams are created.
Rencore – Rencore Governance
About Rencore:
Rencore was founded by two SharePoint consultants in Sweden in 2013. Rencore's first product was SPCAF, which was a SharePoint code analysis tool. Rencore's experts have gone the distance with another product called "Rencore Governance". Current headquarters of Rencore is in Munich and Rencore accompanies their customers all over Europe with an internationally distributed team.
Rencore Governance:
Rencore Governance is not only designed for Microsoft Teams, but several Microsoft 365 services are in focus. Rencore Governance collects information from different Microsoft 365 and Azure services and provides insights and reports for administrators.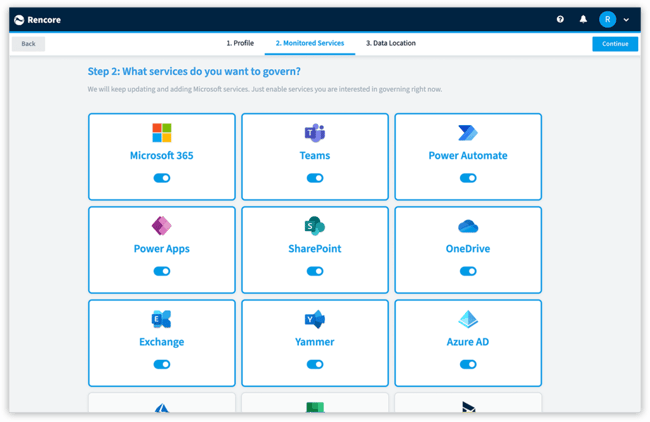 Source: Rencore website
Best Features:
Not just for Microsoft Teams Governance, but for Microsoft 365 and
Azure Governance.
Reporting Features.
Ensures governance policies are adhered to across the organisation
Solutions2Share – Teams Manager
About Solutions2Share:
Solutions2Share was founded in 2011 near Nuremberg. The first product of Solutions2Share was "Collaboration Manager". As a Microsoft Gold Partner, Solutions2Share has over 10 years of experience with product development in the Microsoft Collaboration Platform area. Solutions2Share supports its customers with over 60 experts at different locations. Currently, Solutions2Share operates as part of the Gross Group with other partner companies such as Digital Touch, Teamsware and Solutions2Share Georgia.
Teams Manager:
Teams Manager as a solution from Solutions2Share is a Microsoft Teams management solution that allows you to create your Teams rooms through approval workflows. In addition, Teams Manager from Solutions2Share manages the lifecycle management processes of Teams rooms. The templating feature of Teams Manager facilitates the standardisation of Teams rooms.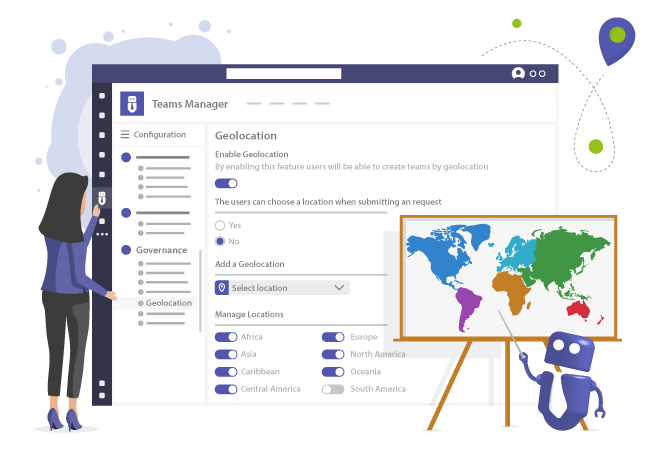 Source: Solutions2Share Website
Best Features:
Approval Processes
Templates for Microsoft Teams
Lifecycle Management
EasyLife 365 AG – EasyLife 365
About EasyLife 365 AG:
EasyLife 365 AG was founded as a subsidiary of Experts Inside AG in 2020 in Switzerland. The company follows the ideas of its founders Patric Lambert and Samuel Zuericher, who hold MVP titles. EasyLife 365 AG won the title of Microsoft Swiss Partner of the Year 2021 in 2021.
EasyLife 365:
EasyLife 365 is a Microsoft 365 governance solution that allows you to control creation of teams workspaces, lifecycle management, guest management. In addition, EasyLife 365 offers Access Policy features that allow you to stay in control of your Microsoft 365 environment. Administration features of EasyLife 365 help IT managers with their day-to-day tasks.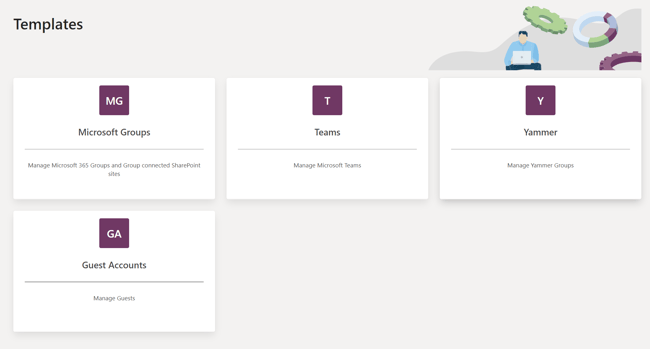 Source: EasyLife 365 Website
Best Features:
Creation of Teams Rooms
Lifecycle Management
Guest Management
Policies
Conclusion
There are different product providers in the German-Austrian-CH area. If origin is important to you, you will definitely look for product providers that are located near your location. We can recommend these four product providers whose products you can evaluate. They will find the best fit for you and for your business based on your requirements. There are also other product providers around the world that may be an option for you.